News & Events
East Catholic High School Announces 2021 Commencement Speaker
Manchester, Connecticut, April 28, 2021 - East Catholic High School's President Sean P. Brennan '85 has announced Brian Bolduc '06 as this year's commencement speaker.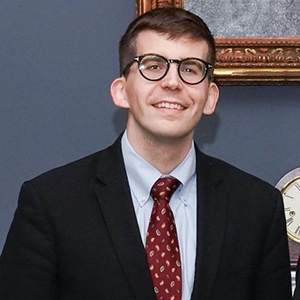 "It's an honor to be this year's graduation speaker. East Catholic did so much to prepare me for college and my career, and I'm looking forward to celebrating the class of 2021," said Bolduc.
Bolduc is currently a vice president in the executive office of Goldman Sachs. From February 2019 to July 2020, he served as director of speechwriting to Vice President Mike Pence. During his career, he has also served as a speechwriter to 2012 Republican presidential candidate Mitt Romney, former Speaker of the House Paul Ryan, and United States Senator Tom Cotton. Before that, he worked briefly in opinion journalism writing for both the Wall Street Journal opinion page and National Review magazine. He is a 2010 graduate of Harvard College. 
"Brian has remained close to the East Catholic family and a number of teachers still here at East," said East Catholic President Sean P. Brennan '85. "We are honored to have him speak to the class of 2021, especially his niece, Maddie Bolduc, who is a member of the graduating class."
Bolduc will address East Catholic's graduating class of 2021 on Thursday, June 3 at the Cathedral of St. Joseph in Hartford. Commencement exercises begin at 6:00 p.m. 
About East Catholic High School
East Catholic High School is a regional college-preparatory school of the Archdiocese of Hartford in Manchester, Connecticut. Students come from more than 35 towns in the Greater Hartford area and eastern Connecticut. East Catholic is a place where students discover who they are meant to be. The school has been awarded the Blue-Ribbon School of Excellence by the U.S. Department of Education and is accredited by the New England Association of Schools and Colleges and the state of Connecticut. East Catholic challenges its students to build their own strong moral character while pursuing academic excellence, responsible citizenship, active participation in community service, sportsmanship, and an appreciation for the fine arts. An overwhelming number of East Catholic students (97 percent) go on to attend four- and two-year colleges. For more information, please visit our Welcome to East Catholic page.