The Application Process
Welcome to East Catholic High School. Begin your East experience here!
Incoming Freshman
We look forward to meeting prospective students and families as they navigate the admissions process. We will be offering the East Catholic High School entrance exam on Saturday, October 21, Saturday, November 4, and Saturday, November 18. The exam begins at 8:30 a.m. Please see our online entrance exam registration for more information.
Please note that the entrance exam being offered at East Catholic is not the HSPT. It is created by our faculty to best understand the placement needs of our students. Students who take the HSPT at other schools are still eligible for enrollment; however, to be considered for merit scholarship students must take the East Catholic entrance exam. Students who do not take the East Catholic entrance exam will need to take it pending acceptance before they can schedule classes.
Private tours are available by appointment only. Please contact Abby Diemar to register for yours today!
Please note, the first step in the admission process is completing a student file. The completed file includes the following:

A completed ECHS application
East Catholic Entrance Exam
Student School Performance Documents (Report Cards, Progress Reports, Standardized Test Scores, Evaluations, etc).
Special Education Plan (if applicable)
Admissions Steps
Complete ECHS application
Take entrance exam
Submit required documents - see above
Await review of application to determine admittance
Apply for tuition assistance
Register and pay registration fee
Course selection
Inquire About Our School Community
Congratulations on taking the first step in becoming part of the East Catholic community. Please complete the information below, and an admissions team member will reach out to you.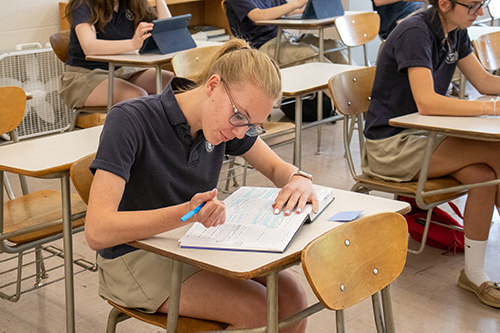 Admissions Info
Applications, forms, and more information for incoming freshman and transfer students are here:
Request Admissions Information
Note to Parents of Incoming Freshmen
To maintain compliance with state guidelines, please do not schedule the required physical exam prior to July 1. The completed Health Assessment Record forms are due before the end of 9th grade and must be completed by the physician at the time of the exam and turned directly in to the school nurse (not the Athletics Department).