News & Events
New President Appointed at East Catholic High School in Manchester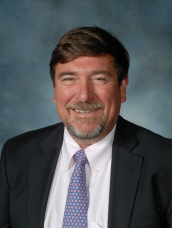 Sister Mary Grace Walsh, ASCJ, Ph.D., provost for education, evangelization and catechesis for the Archdiocese of Hartford, announced that Sean P. Brennan has been appointed as the new president of East Catholic High School in Manchester effective on July 1, 2020. Mr. Brennan, a 1985 graduate of East Catholic, comes to his alma mater from Austin Preparatory School, a private Catholic school in Reading, Massachusetts where he served as assistant headmaster and upper school head. He will replace Valerie Mara, assistant to the provost for the Archdiocese of Hartford, who has been serving as the interim head of school since November 2019. The search for the school's new president was conducted by Partners in Mission School Leadership Search Solutions. Based in Westwood, Massachusetts, Partners in Mission is a national consulting firm devoted exclusively to developing excellence in advancement and leadership within Catholic schools.
As president of East Catholic High School, Mr. Brennan will head a leadership team which will also include Susan Perillo as dean of academics and Janice Reilly as dean of student life. Mr. Brennan's professional background includes positions at several private schools in a variety of roles, including English teacher and department chair, dean of academic affairs, head of school, and assistant headmaster. He has also coached varsity football and in fact, held the role of assistant football coach at East Catholic in 1991.
Mr. Brennan's increasing responsibilities throughout his career have prepared him well to guide East Catholic High School, and he brings substantial skills in the following areas to the position of president: strategic planning; enrollment management; fundraising including both annual fund efforts and capital projects; international student and study abroad programs; collaboration with school boards; oversight of student academics, extra-curricular programs and advising; faculty oversight; teaching; and curriculum development. The position of president at East Catholic, an Archdiocesan high school, reports to the Archbishop and the board of directors through the provost and superintendent.
Following his graduation from East Catholic High School, Mr. Brennan attended Middlebury College in Middlebury, Vermont where he earned both his bachelor's and master's degrees in English. As an East Catholic alumnus, this will be a homecoming of sorts for Mr. Brennan, and he is excited by the prospect, "I am greatly humbled by the opportunity to become the next president of my alma mater, East Catholic High School. My time as a student at East was defined by the meaningful relationships I forged with fellow students, teachers, and staff. It warms my heart that current students, faculty, staff, and parents echo those sentiments 35 years later. Please know that I will do all I can to retain and strengthen the family that is East Catholic by keeping the experience of our students at the center of all we do. Each and every student has the innate potential to do great things. It is our responsibility to help them reach their goals in mind, body, and spirit."
Sister Mary Grace Walsh echoes Mr. Brennan's optimism at his appointment stating, "I have every confidence that Sean's love for and familiarity with East Catholic High School, coupled with his outstanding professional skills, will fuel a strong commitment to guiding the school toward a position of viability and strength for years to come. Sean is well equipped to administer the new leadership structure and looks forward to working with his two deans. He is anxious to become a part of the current East Catholic community and to reach out both internally and externally to the Eagle Nation. I am grateful to the search committee who identified Sean as their overwhelming choice, and I am pleased to welcome him back to East Catholic, to Connecticut, and to the Archdiocese of Hartford."
Prior to the beginning of his tenure at East Catholic on July 1, Mr. Brennan will be relocating from his current residence in Wellesley, Massachusetts.